Pesantren Kilat Ramadhan di Surau Ar-Rahman Sungai Beringin Kabupaten Indragiri Hilir
Sri Erdawati

STAI Auliaurrasyidin Tembilahan, Indragiri Hilir, Riau, Indonesia

Moh. Sain

STAI Auliaurrasyidin Tembilahan, Indragiri Hilir, Riau, Indonesia

Seri Yanti Siagian

STAI Auliaurrasyidin Tembilahan, Indragiri Hilir, Riau, Indonesia
Keywords:
Ramadhan, Islamic Boarding, Al-Quran, Reading, Memorizing
Abstract
This paper discusses the Ramadhan Islamic Boarding program conducted at Surau Ar-Rahman, Sungai Beringin Village, Tembilahan, Indragiri Hilir. It was necessary because it can provide education, training, and guidance to the younger generation, especially children and youth in reading short chapters of the Al-Quran with correct recitation, train and develop their memories so they can apply at least either obligatory or circumcision prayers. This program aimed at attracting participants' attention became constantly coming to the mosque, directing them to be positive, and performing beneficial activities during Ramadhan. This Ramadhan Islamic Boarding program was embraced enthusiastically and successfully because it affected participants' understanding of reading the Al-Quran. At the end of the program, they can read short chapters of Al-Quran with correct tajwid, including memorizing great short chapters of the Al-Quran.
Downloads
Download data is not yet available.
References
Al-Hasani, Sayyid Muhammad ibn Alwi Al-Maliki. (1424). al-Qawaid al-Asasiyah fi Ulum al-Qur'an. Saudi Arabia: Maktabah al-Malik Fahd al-Wathaniyah.
Al-Khalidi, Shalah Abd al-Fattah. (1424). Mafatih li al-Ta'amul ma'a al-Qur'an. Damaskus: Dar al-Qalam.
Al-Nawawi, Abu Zakariya Yahya ibn Syarf. (1417). Al-Tibyan fi Adab Hamalat al-Qur'an. Bairut: Dar Ibn Hazm.
Al-Qardhawi, Y. (2013). Kaifa Nataammal ma'a al-Qur'an al-Azhim. Kairo: Dar al-Syuruq.
Al-Suyuthi, Abd Al-Rahman Ibn Abi Bakr. (1394). Al-Itqan fi Ulum al-Qur'an. Kairo: al-Haiah al-Mishriyah al-Ammah al-Kitab.
Dalimunthe, R. A. (2020). "Minat Siswa Mengikuti Pesantren Kilat di SMK Negeri 1 Pantai Labu Tahun 2019", Fitrah: Journal of Islamic Education Vol. 1. No. 1.
Khon, A. M. (2008). Praktikum Qira'at Keanehan Bacaan Al-Qur'an Qira'at Ashim Dari Hafash. Jakarta: Ahzam.
Mujahidin, E. (2017). "Pengembangan Nilai-Nilai Spiritual Berbasis Pesantren Kilat (Studi Pengembangan Model Pembelajaran Pesantren Kilat yang Inovatif dan Efektif untuk Siswa Sekolah Lanjutan Tingkat Atas)", Edukasi Islami: Jurnal Pendidikan Islam, Vol. 1, No. 02.
Setiawan, A. (2012). "Model Pembelajaran Pesantren Kilat dalam Menanamkan Nilai-Nilai Moralitas pada Siswa Sekolah Menengah Pertama di Salatiga." INFERENSI: Jurnal Penelitian Sosial Keagamaan Vol. 6. No. 2.
Zaini, H., & Hilma, P. P. (2020). "The Students' Religion Attitude: Study of Pesantren Ramadhan for Senior High School in Padang City." Jurnal Iqra': Kajian Ilmu Pendidikan, Vol. 5. No.1.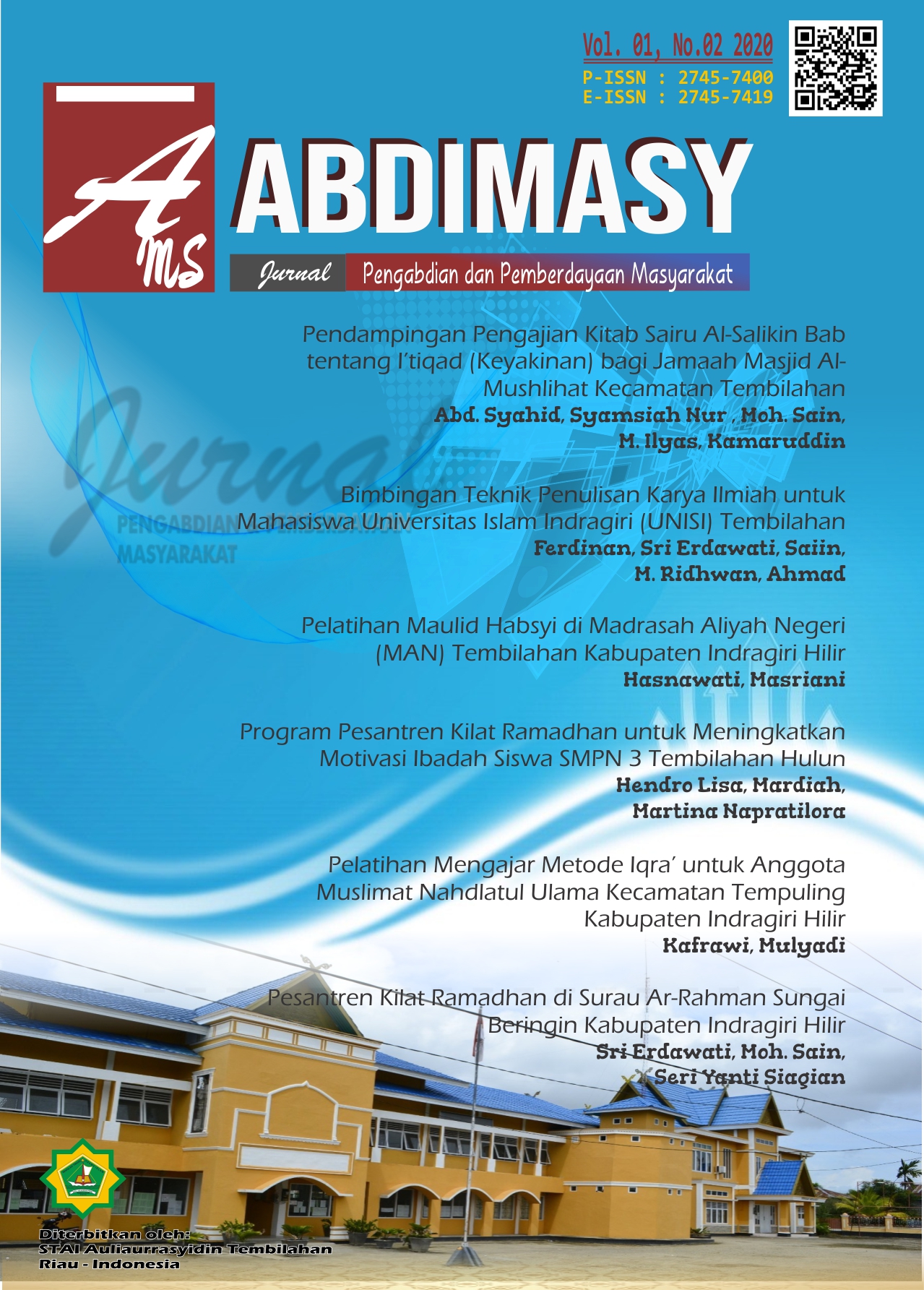 How to Cite
ErdawatiS., SainM., & SiagianS. Y. (2020). Pesantren Kilat Ramadhan di Surau Ar-Rahman Sungai Beringin Kabupaten Indragiri Hilir. ABDIMASY: Jurnal Pengabdian Dan Pemberdayaan Masyarakat, 1(2), 85-101. https://doi.org/10.46963/ams.v1i2.267
Copyright (c) 2020 Sri Erdawati, Moh. Sain, Seri Yanti Siagian
This work is licensed under a Creative Commons Attribution-ShareAlike 4.0 International License.
Authors who publish with this journal agree to the following terms:
1. Copyright on any article is retained by the author(s).
2. The author grants the journal, right of first publication with the work simultaneously licensed under a Creative Commons Attribution License that allows others to share the work with an acknowledgment of the work's authorship and initial publication in this journal.
3. Authors are able to enter into separate, additional contractual arrangements for the non-exclusive distribution of the journal's published version of the work (e.g., post it to an institutional repository or publish it in a book), with an acknowledgment of its initial publication in this journal.
4. Authors are permitted and encouraged to post their work online (e.g., in institutional repositories or on their website) prior to and during the submission process, as it can lead to productive exchanges, as well as earlier and greater citation of published work.
5. The article and any associated published material is distributed under the Creative Commons Attribution-ShareAlike 4.0 International License