Alat Redestilasi sebagai Solusi Peningkatan Kualitas Asap Cair di Dusun Semen, Magelang
Keywords:
Liquid Fumes, Carcinogens, Distillation, Technology
Abstract
Women's Farmers Group (KWT) Nira Lestari became one of the groups engaged in the use of coconuts. Products produced by KWT Nira Lestari include liquid sugar, ant sugar, VCO and liquid smoke. The processing of products on KWT is not fully optimal, the liquid smoke produced cannot be used as a food aroma such as the function of liquid smoke in general because the processed results of liquid smoke are still pitch black and contain carcinogen compounds. This activity aims to design a liquid smoke redefiment technology at KWT partner Nira Lestari. The methods used include a specific review of the needs and potential of partners, preparation of implementation, technology design, analysis of tool concept design, video creation of program implementation, creation of product application playbook, and evalusai with partners. The results achieved from this activity are in the form of a design of liquid smoke distillation technology, video and application usage manual. The design of this distillation technology design is expected to be applied independently by partners, thus becoming a tool that has the potential to improve the quality of liquid smoke products and increase partner productivity.
Downloads
Download data is not yet available.
References
Ardilla, D., Thamrin, Basuksi, W.S., & Eddiyanto. (2013). Kajian kandungan senyawa phenol dan senyawa PAH pada asap cair cangkang kelapa sawit (ACCKS) redestilasi yang dihasilkan pada temperatur tinggi. Agrium. 18(1):7-11. http://dx.doi.org/10.30596%2Fagrium.v18i1.338
Dewi, J., Gani, A., dan Nazar, M. (2018). Analisis kualitas asap cair tempurung kelapa dan ampas tebu sebagai bahan pengawet alami pada tahu. Jurnal Inovasi Pendidikan IPA. 2(2): 106-112. https://doi.org/10.24815/jipi.v2i2.12743
Fachraniah, Fona, Z., dan Rahmi, Z. (2009). Peningkatan kualitas asap cair dengan destilasi. Journal of Science and Technology. 7(14).
Fathussalam, M., Putranto, A. W., Argo, B. D., Harianti, A., Oktaviani, A., Puspaningarum, F. P., & Putri, S. L. O. (2019). Design of coconut shell liquid smoke production machine based on Cyclone-Redistillation technology. Jurnal Ilmiah Rekayasa Pertanian Dan Biosistem, 7(2), 148–156. https://doi.org/10.29303/jrpb.v7i2.113
Fauzan dan Ikhwanus, M. (2017). Pemurnian asap cair tempurung kelapa melalui distilasi dan filtrasi menggunakan zeolit dan arang aktif. Prosiding Seminar Nasional Sains dan Teknologi. 1-2 November 2017, Jakarta, Indonesia. 1-5. https://jurnal.umj.ac.id/index.php/semnastek/article/view/1976
Haji, A.G. (2013). Komponen kimia asap cair hasil pirolisis limbah padat kelapa sawit. Jurnal Rekayasa Kimia dan Lingkungan. 9(3):109-116. https://doi.org/10.23955/rkl.v9i3.779
Kailaku, S.I., Syakir, M., Mulyawanti I., dan Syah, A. (2017). Antimicrobial activity of coconut shell liquid smoke. Material Sciens and Engineering. 206.
Kilinc, B. dan Cakh, S. (2012). Growth of listeria monocytogenes as affected by thermal treatment of rainbow trout fillets prepared with liquid smoke. Turkish Journal of Fisheries and Aquatic Sciences. 12. 285-290.
Koohsaryan, E. dan Anbia, M., (2016), Nanosized and hierarchical zeolites: a short review. Chinese Journal of Catalysis. 37(4):447–67. https://doi.org/10.1016/S1872-2067(15)61038-5
Sari, E. (2018). Quality identification of liquid smoke result of pyrolysis empty fruit bunches waste. Jurnal Agroqua: Media Informasi Agronomi dan Budidaya Perairan, 16(1), 1-9. Retrieved from https://journals.unihaz.ac.id/index.php/agroqua/article/view/351
Shobari, E. (2019). Analisis kerja mesin distilasi dan efisiensi boiler pada pengolahan minyak kayu putih perum perhutani majalengka. Prosiding 10th Industrial Research Workshop and National Seminar. 24 Juli (2019), Bandung, Indonesia. https://doi.org/10.35313/irwns.v10i1.1415
Zuraida, I., Sukarno, dan Budijanto, S. (2011). Antibacterial activity of coconut shell liquid smoke (CS-LS) and its application on fish ball preservation. International Food Research Journal. 1(18): 405-410.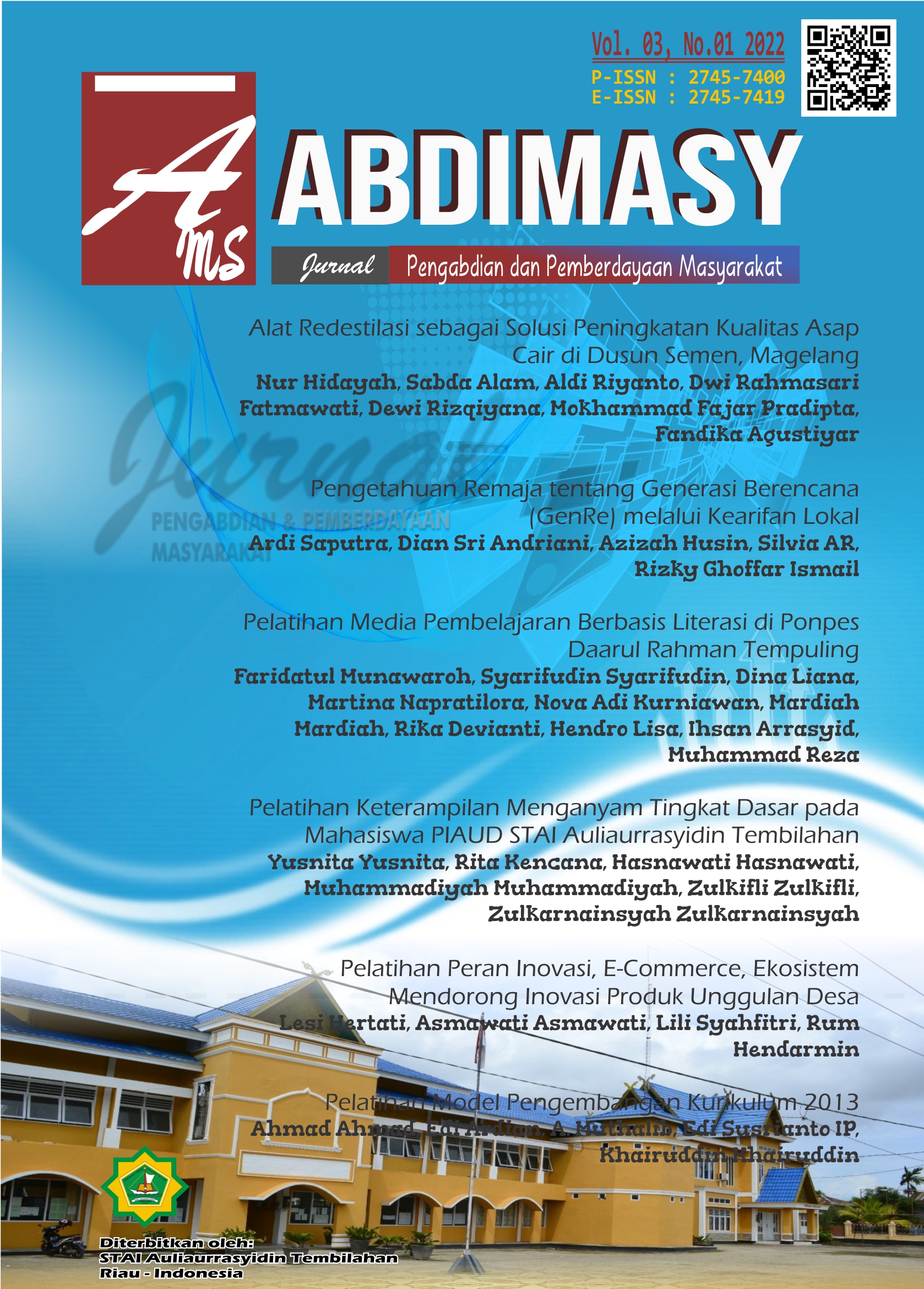 Downloads
How to Cite
Hidayah, N., Alam, S., Riyanto, A., Fatmawati, D. R., Rizqiyana, D., Pradipta, M. F., & Agustiyar, F. (2022). Alat Redestilasi sebagai Solusi Peningkatan Kualitas Asap Cair di Dusun Semen, Magelang. ABDIMASY: Jurnal Pengabdian Dan Pemberdayaan Masyarakat, 3(1), 1–10. https://doi.org/10.46963/ams.v3i1.487
License
Authors who publish with this journal agree to the following terms:
1. Copyright on any article is retained by the author(s).
2. The author grants the journal, right of first publication with the work simultaneously licensed under a Creative Commons Attribution shareAlike 4.0 International License that allows others to share the work with an acknowledgment of the work's authorship and initial publication in this journal.
3. Authors are able to enter into separate, additional contractual arrangements for the non-exclusive distribution of the journal's published version of the work (e.g., post it to an institutional repository or publish it in a book), with an acknowledgment of its initial publication in this journal.
4. Authors are permitted and encouraged to post their work online (e.g., in institutional repositories or on their website) prior to and during the submission process, as it can lead to productive exchanges, as well as earlier and greater citation of published work.
5. The article and any associated published material is distributed under the Creative Commons Attribution-ShareAlike 4.0 International License